Great student's exchange-amazing performances at the end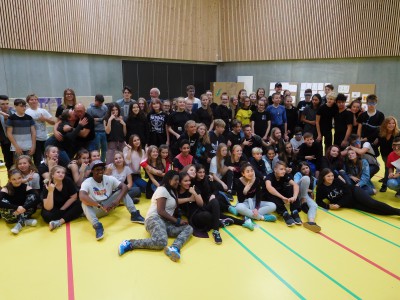 Students from Poland, Denmark and Germany are working together in projects on the topic climate change. There have been workshops every day:art (Ole from Denmark)), music (Boris from Finland) and dance (Booma from England). All the students have been working hard and preparing a performance at the end.
The results are amazing. Today it was the first performance at Sophieskolen/Nykobing, the wonderful school that is hosting the exchange group. The workshops presented their results together with another exchange group who worked at Stubbekobing school. So it was more than an hour of a phantastic music-,art- and dance performance. The audience-students of Sophieskolen-gave lots of applause. The next performance will be tomorrow at another school and that will be the end of this September exchange. The groups will leave by bus and ferry tomorrow evening. Many students ask about the date for the next exchange and want to come again, but until then they will stay in contact and maybe visit each other during school holidays.