Climate debate
Professor-Franz-Bunke-Schule Schwaan
13th April 2018
In the morning of 13th April we, students of grade 8, were very excited.
After working on the topic climate change for weeks which also included teaching students of grade 6 about the topic and work on an interesting art project we had prepared a debate about climate change.
We had invited a lot of guests like mister Antelmann, the representative from town hall, mister Pabusch, our headmaster, Mister Dawberg, our artist who teached us to create art works and lots of other guests.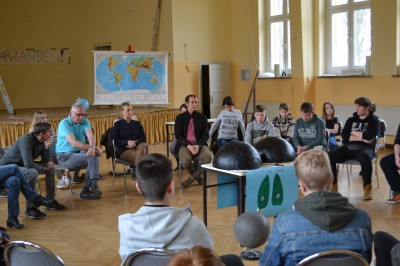 The main topic was to discuss how our school can change things to contribute to save our environment.
We represented our ideas and had an interesting and open discussion.
Some of our ideas were easy to realize. So the replacement of old light bulbs had already begun years ago. We also wanted to start a better waste sorting system next schoolyear and need some money for that, make sure that no paper goes to the other waste baskets because we can sell used paper! We want to use recycled paper for all purposes, also for all the copies of course. The town is also planning a new energy saving heating system. Movement sensors should be a standart in all public buildings like our school.
Students should use buses instead of cars. We are planning to talk to parents in the morning and ask them why they take their children to school by car. Some of them have reasons of course.
At the end of our climate debate we were happy and satisfied with the results.