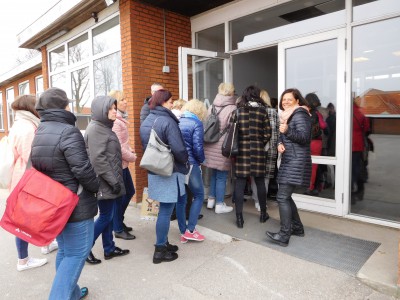 Teacher training 09.-12.April 2018
Petra Paul and Birgit Dünow take part in Nykobing/ Denmark
It is a good tradition that teachers of at least five countries (Poland, Denmark, Germany, Sweden and Lithuania) come together and learn from each other. So this was our last meeting – the dissamination conference – of the "Let's do it" project 2016 – 2018.
We spent four days together. The youth hostel in Nykobing is a wonderful place for those meetings.
First the booklet was discussed which is a result of precious experiences of many students exchanges. There is no better way of doing teacher trainings than working together in exchanges. Then we went to different schools in Südfalster that took part in exchanges and even hosted some of them. We learned about what it means for small communities to have a big internationally working school. Discussions with teachers and students followed.
Then we got information about cooperation of Sophieschool with schools in Guldborgsund Municipality.
At the end there was enough time left for changing experiences while having a cup of coffee or sightseeing or folk dance to Danish fiddle music.