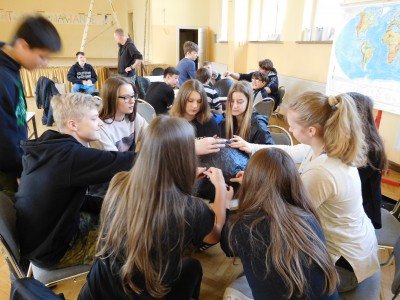 Art project 19th March to 13th April in Schwaan
Professor-Franz-Bunke-Schule schwaan
Stop Climate Change – Start of the art project – preparations
What is climate change? What is the greenhouse effect?
What can we young people do against it? Can we really stop it or are we too young?
Switch off lights, TV …when we leave the room,
lower the heating, wear warmer clothes instead,
walk to school or use a bike instead of a car?
First we did a lot of investigations about the Paris Climate Conference and the results. Then we discussed about the meaning for the people in Germany and especially here in the North in a small city like Schwaan.
We found out a lot of things we could do at school and at home.
Then we prepared "lessons" for younger students – grade 5 and 6 including a power point presentation, lots of posters and reports. During the next three weeks we are going to teach them about the topic Climate Change.