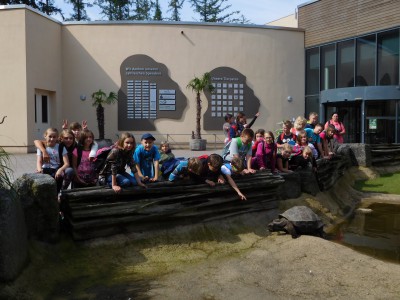 Influence of climate change on wildlife
Lessons in Rostock Zoo

On Thursday, the 20th July 2017, 27 students of class 4a went to Rostock Zoo. The zoo is always worth a visit but this time they wanted to learn more about the living conditions of wild animals in a zoo.
The lesson started with a long walk. The students learned that many of the wild animals would be endangered if they would go back to their natural biosphere. The zoo staff tries to create a natural environment for the animals. That is not easy because a lot of energy is needed for monkeys for example. They need a warm surrounding to feel comfortable and of course to survive.
The students learned how Rostock Zoo uses environmental friendly technologies wherever possible.
The children had a lot of time to watch the animals. Some of them like the camels seemed to be sad. So the question is: Is it really good to keep them in a zoo just to present them to an audience?
But more people must be teached about the climate change and about the danger for the animals, so at the end it is good.
During class in Darwineum they learned more about the ecosystem and how living creatures on earth influence each other and also about the food chain.
Soon there will be a Polarium in Rostock Zoo which they are working on now.
There they will especially teach people about the influence of climate change on ecosystems.
The young students will definitely be among the first guests.